Rocky Branch Ghost Town Featuring Frightening Fun All Season Long!
Home » Blog » Georgia's Best Weekend Events, Georgia Haunts: An In Depth Look, GeorgiaHauntedHouses.com News and Updates
September 24, 2019 By Haunt News & Press Releases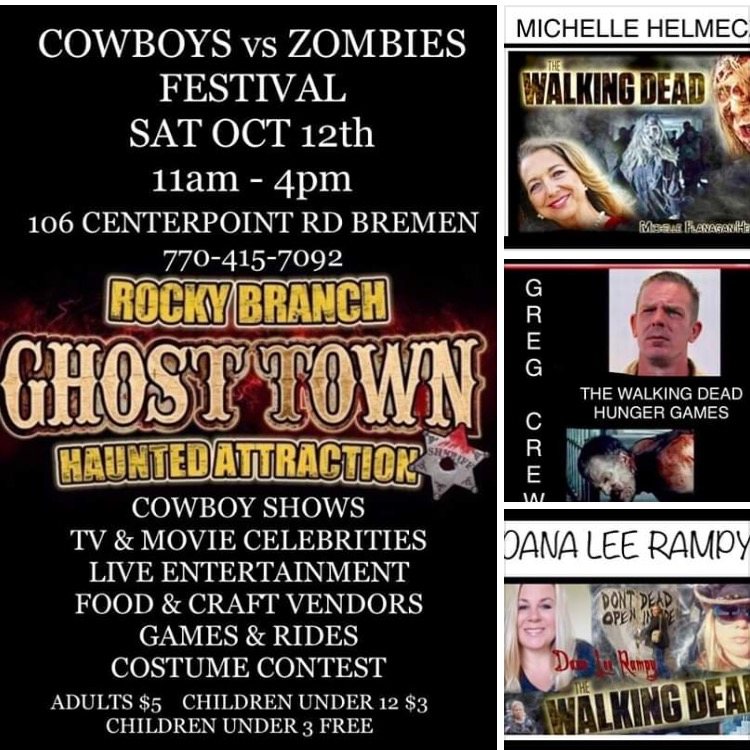 Cowboys vs Zombies Festival!
GeorgiaHauntedHouses.com recently sat down with Carmon Williams of Rocky Branch Ghost Town, to discuss what's new at the haunted attraction for the 2019 Halloween Season!
What's new at Rocky Branch Ghost Town for 2019? Do you have any new rides, attractions, or special features that Haunt Seekers should know about?
As always, here at Rocky Branch Ghost Town we try to change at least 75% of the Haunt content each year. Keeping it fresh and thrilling for our faithful followers. However, we still a few our fan favorite scenes. Also new this year is our "Non Scare Family Hour" from 7:00 pm - 8:00pm. We love for the little ones to get a chance to visit our Town too. Then, starting at 8:30 it's on. All of the screams and bad dreams that you can bear.
What are you most excited about for the 2019 Halloween Season?
Reuniting with our cast and crew "Our Rocky Branch Family". We are so blessed to have an awesome group of talented, hard working people that give their all. From set design , acting , makeup, wardrobe and behind the scenes our Rocky Branch Bunch is the best. Without them, we wouldn't have a Award Winning Haunt.
What differentiates Rocky Branch Ghost Town from other local haunts in Georgia?
We actually have an 1800's style Old West Town. Complete with a Saloon, Jail, Blacksmith Shop, Barber Shop and other buildings. One of our neatest buildings is a replica of the old Bates Motel, from the movie Psycho. So many possibilities for change each year.
How long has Rocky Branch Ghost Town been in business? Can you tell us a bit more about Rocky Branch Ghost Town's history?
The buildings of the town were starting in 2006 by the previous owners and they actually started the Haunt a few years after that. Finally retiring in 2015 when we bought it.
We have had the Haunt now for four years, with this being our fifth Haunt season . Out of those four years we have been Georgia Haunted Houses Top Rated Attraction each year. Winning Top Overall Attraction in 2015, 2016, & 2018.
What's your favorite experience since opening Rocky Branch Ghost Town?
There are so many. I can't pick just one. To sum it up , I must say. It would be. Feeling the joy of seeing customers having a good time.
How long is a typical haunt experience at Rocky Branch Ghost Town from start to finish?
Once you go inside the gate, tour the Town and walking trail until you get off of the Hayride. It's about 40-45 minutes.
On a scale from 1 to 10, how scary would you say Rocky Branch Ghost Town is? Why?
About an 8 average 9 in some spots depending on person and what they are afraid of. We add a little humor into it to have a good balance and to build up for next scare. We don't claim to be the scariest Haunt around, but we are definitely one of the most unique ones.
Does Rocky Branch Ghost Town's property have any real haunted history? Do you have a spooky encounter you'd like to share?
While working on sets a lot of times tools and things sometimes get rearranged and changed.
What inspired you to open up a haunted attraction? What's your favorite part of the business?
Honestly, it came with the purchase of the property. I am a floral and interior designer by trade and never would have thought I would ever own a Haunted Attraction. I have to admit it has been a blast. A lot of hard work, but very gratifying.
How has new technology (i.e. animatronics, special props, etc) helped you to enhance Rocky Branch Ghost Town?
We have several animatronics and some cool props in strategic places to help set the mood But I feel our live actors put heart and soul into the scene making it a successful scare.
Can Rocky Branch Ghost Town accommodate large groups? How many people can experience Rocky Branch Ghost Town together as a group?
We can accommodate any size group. We do however only send through small groups of up to six in at a time. This is to insure everyone gets the full effect of the scare. We run group as quickly as possible. Most large groups can meet back up to be on the hey ride together.
Does Rocky Branch Ghost Town offer any special deals, discounts, or coupons?
We do offer discounts to groups of ten or more. You must call and make reservations to get the discount. 770-415-7092
Anything else you'd like to let us know about Rocky Branch Ghost Town?
We are having our second annual Cowboys vs Zombies Festival Saturday, October 12th. See the information on Facebook and on this site in special events. You can also see Rocky Branch Ghost Town cast and crew at many of the local parades and festivals this fall.